General
Thank you for visiting eznerd.com. This agreement governs your use of the EZNERD website. Your use of this website constitutes your agreement to comply, and be bound to, the following terms and conditions. In the event that a violation occurs, EZNERD reserves the right to terminate or limit your access to this website without notice.

This Agreement constitutes the entire agreement between EZNERD and the users of this website with respect to the use and terms of this website. Any prior written or oral agreements between the parties in regards to the use and terms of this website are hereby superceded by this Agreement.
Indemnity
All users of this website agree to indemnify, and hold harmless, EZNERD and its affiliates including directors, officers, agents, and employees from any and all claims, losses, liabilities, or expenses (including attorney's fees) arising from or in connection to your use of this website.
Purchases
Unless alternate payment terms are worked out in advance, customers are expected to pay for services after work is completed or if work is ongoing in installments after a particular portion is completed. If ourside services are provided, such as occasional onsite technical support by a 3rd party then such services must be pre-paid in advance. Purchased products, such as hardware, software, licenses or shipping expenses require pre-payment unless other arragements are worked out in advance.
Changes to This Site/Agreement
EZNERD reserves all rights to modify, terminate or change this website or Agreement at anytime, in its sole discretion, and without notice. Any use of this site after a change has been made constitutes your agreement to the changes, therefore you should review these terms and conditions frequently.
Termination of This Site
EZNERD reserves the right to restrict, suspend or deny access to this website at anytime without providing notice or reason and without liability.
Disclaimer
While EZNERD will use reasonable efforts to provide accurate and up to date information on this website, EZNERD is providing this information "as is" and without warranty. EZNERD is not liable for any omissions, inaccuracies, or errors posted on this website.

Some links provided on this website are time-sensitive and may expire.
Third Party Websites
For the convenience of our users, EZNERD may provide links to other websites or news articles. EZNERD is not liable in anyway for the content provided on these third party sites, nor does EZNERD endorse the advertisements or contents on third party sites. Should you have any problems or concerns regarding information or content on an external website, we suggest that you contact the administrator of that particular website.
Member/Visitor Conduct
Users of this website may not at any time modify, reproduce, publish, transmit, distribute or sell any content, in whole or in part, gathered from this site. Some areas of this website are password protected for members only. Members are prohibited from distributing this information to third parties for any reason.
Choice of Law
This Agreement shall be construed in accordance with the laws of the State of Delaware and the parties consent to bring any action in regards to this Agreement to courts located in Kent County, Delaware.

The only personal information collected is information you give us: This web site collects information from users at several different points. EZNERD is the sole owner of all data collected on the web site. We collect and maintain only that personal information which you voluntarily provide. Our intent in collecting information is to provide the most personalized and relevant experience with EZNERD and its web site.
How we use log files to better serve you: We use log files to assess the aggregate level of traffic to this site including what pages people are visiting, and to diagnose any potential problems with the Web site.
We will not sell your personal information: Under no circumstance will we sell your information to third parties (including but not limited to commercial entities).

We reserve the right to share information voluntarily entered by users of our site in the event that it is necessary to comply with any legal process including but not limited to court orders, and subpoenas.
Protecting information you provide via this site: We make every effort to protect your information from the moment you begin to enter your information to when it is stored on our secure servers.

Strict security measures are in place to protect the loss, misuse and alteration of any and all information pertaining to this site. In addition, this site is run on servers located in a secure server location.
Links to other sites: Our site may contain links to other Web sites and servers. We are not responsible for the content or privacy practices of linked Web sites; nor should a link from this site be construed as an endorsement of that site's content, services or practices. Other sites have their own policies regarding privacy, should you choose to visit one of these sites you may want to review their policy.
How to unsubscribe from our email list: All sign ups for email communications and other features of this site are completely voluntary. At the bottom of most email is an opportunity to unsubscribe.
We reserve the right to revise or update this privacy policy at any time: While we do not intend to make any changes to this policy we do reserve the right to do so.


EZNerd Exceptional Service
We take great pride in providing exceptional service to everyone requesting our help. Brilliance and friendliness are our two most crucial hiring requirements. We smile while we're on the phone working with you!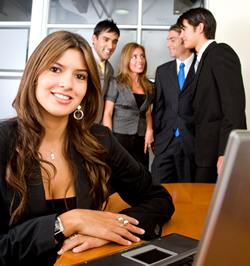 Knowing my office system was built and is supported by EZNerd makes me not dread coming into work like I used to when it seemed like we were always having computer problems.